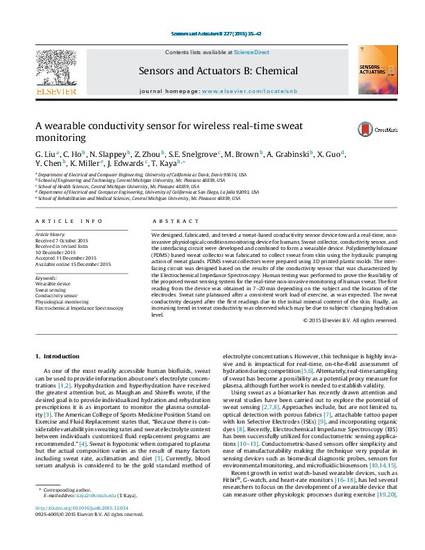 Article
A Wearable Conductivity Sensor for Wireless Real-time Sweat Monitoring
Sensors and Actuators B: Chemical (2016)
Abstract
We designed, fabricated, and tested a sweat-based conductivity sensor device toward a real-time, non-invasive physiological condition monitoring device for humans. Sweat collector, conductivity sensor, and the interfacing circuit were developed and combined to form a wearable device. Polydimethylsiloxane (PDMS) based sweat collector was fabricated to collect sweat from skin using the hydraulic pumping action of sweat glands. PDMS sweat collectors were prepared using 3D printed plastic molds. The interfacing circuit was designed based on the results of the conductivity sensor that was characterized by the Electrochemical Impedance Spectroscopy. Human testing was performed to prove the feasibility of the proposed sweat sensing system for the real-time non-invasive monitoring of human sweat. The first reading from the device was obtained in 7–20 min depending on the subject and the location of the electrodes. Sweat rate plateaued after a consistent work load of exercise, as was expected. The sweat conductivity decayed after the first readings due to the initial mineral content of the skin. Finally, an increasing trend in sweat conductivity was observed which may be due to subjects' changing hydration level.
Keywords
Wearable device,
Sweat sensing,
Conductivity sensor,
Physiological monitoring,
Electrochemical Impedance Spectroscopy
Publication Date
May, 2016
DOI
https://doi.org/10.1016/j.snb.2015.12.034
Citation Information
G. Liu, C. Ho, N. Slappey, Z. Zhou, S.E. Snelgrove, M. Brown, A. Grabinski, X. Guo, Y. Chen, K. Miller, J. Edwards, and T. Kaya, "A wearable conductivity sensor for wireless real-time sweat monitoring," Sensors and Actuators B: Chemical, 227, 35-42, 2016 (Impact factor: 4.30).