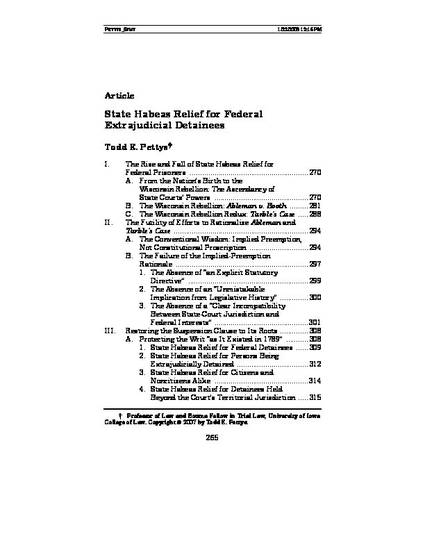 Article
State Habeas Relief for Federal Extrajudicial Detainees
Minnesota Law Review (2007)
Abstract
I argue that the Court's nineteenth-century rulings in Ableman v. Booth and Tarble's Case marked a little-known but sharp break with state courts' decades-long practice of granting habeas relief to federal extrajudicial detainees. I contend that the Court's reasoning in those cases is unpersuasive, and that modern efforts to rationalize those cases' outcomes fare no better. I also argue that the Suspension Clause bars Congress from stripping state courts of their power to grant habeas relief to persons being extrajudicially detained by federal authorities.
Keywords
habeas,
detainees,
tarble's case,
suspension clause,
ableman,
federalism,
state courts
Publication Date
December, 2007
Citation Information
Todd E. Pettys. "State Habeas Relief for Federal Extrajudicial Detainees"
Minnesota Law Review
Vol. 92 Iss. 2 (2007)
Available at: http://works.bepress.com/todd_pettys/5/