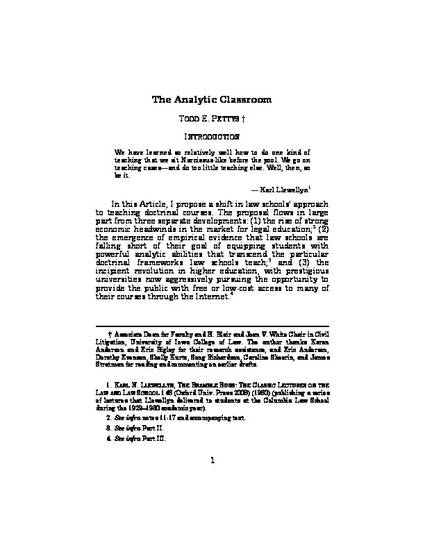 Article
The Analytic Classroom
Buffalo Law Review (2013)
Abstract
This article proposes a dramatic shift in law schools' approach to teaching doctrinal courses. The proposal flows in large part from three separate developments: (1) the rise of strong economic headwinds in the market for legal education; (2) the emergence of empirical evidence that law schools are falling short of their goal of equipping students with powerful analytic abilities that transcend the particular doctrinal frameworks law schools teach; and (3) the incipient revolution in higher education, with prestigious universities now aggressively pursuing the opportunity to provide the public with free or low-cost access to many of their courses through the Internet. Ever since the Langdellian revolution of the late nineteenth century, subject-matter coverage and cognitive development have battled for primacy in law school classrooms. We have purported to achieve both objectives simultaneously through the pedagogical techniques we employ, particularly through our practice of questioning students about appellate rulings. The historical and empirical records suggest, however, that those objectives often sit in strong tension with one another, and that faculty and students alike commonly make choices that prioritize doctrinal coverage over analytic development. The key to changing that stubborn dynamic lies in loosening the Langdellian link between teaching students doctrine and developing students' minds. By using Web-based technologies—technologies that are likely to become pervasive in mainstream higher education regardless of our initial eagerness to embrace them—faculty can introduce students to doctrinal frameworks before they enter the classroom. Confronted then with the need to rethink the chief purposes of live classroom sessions, faculty can focus their energies on developing activities that build on those doctrinal frameworks in ways aimed squarely at strengthening students' analytic capacities.
Keywords
Langdell,
legal education
Publication Date
Winter 2013
Citation Information
Todd E. Pettys. "The Analytic Classroom"
Buffalo Law Review
Vol. 61 (2013)
Available at: http://works.bepress.com/todd_pettys/19/