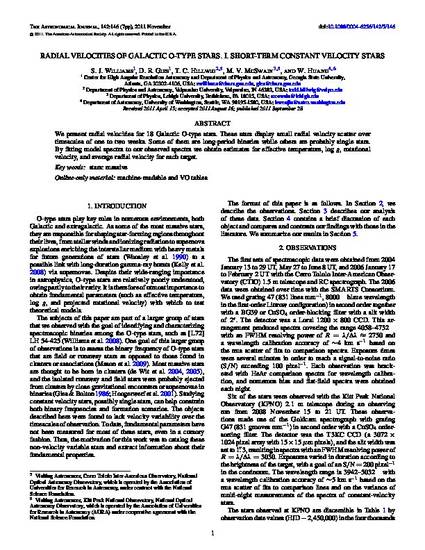 Article
Radial Velocities of Galactic O-type Stars. I. Short-Term Constant Velocity Stars
The A (2011)
Abstract
We present radial velocities for 18 Galactic O-type stars. These stars display small radial velocity scatter over timescales of one to two weeks. Some of them are long-period binaries while others are probably single stars. By fitting model spectra to our observed spectra we obtain estimates for effective temperature, log g, rotational velocity, and average radial velocity for each target. 
Publication Date
September 28, 2011
DOI
10.1088/0004-6256/142/5/146
Citation Information
S. J. Williams, D. R. Gies, Todd Hillwig, M. V. McSwain, et al.. "Radial Velocities of Galactic O-type Stars. I. Short-Term Constant Velocity Stars"
The A
Vol. 142 (2011) p. 146
Available at: http://works.bepress.com/todd_hillwig/11/