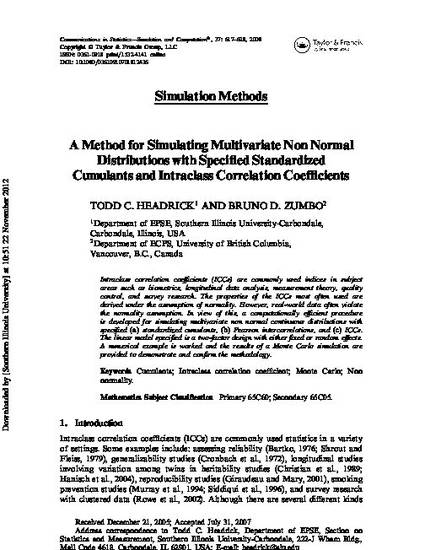 Article
A Method for Simulating Multivariate Non-normal Distributions with Specified Standarized Cumulants and Intraclass Correlation Coefficients
Communications in Statistics: Simulation and Computation (2008)
Abstract
Intraclass correlation coefficients (ICCs) are commonly used indices in subject areas such as biometrics, longitudinal data analysis, measurement theory, quality control, and survey research. The properties of the ICCs most often used are derived under the assumption of normality. However, real-world data often violate the normality assumption. In view of this, a computationally efficient procedure is developed for simulating multivariate non normal continuous distributions with specified (a) standardized cumulants, (b) Pearson intercorrelations, and (c) ICCs. The linear model specified is a two-factor design with either fixed or random effects. A numerical example is worked and the results of a Monte Carlo simulation are provided to demonstrate and confirm the methodology.
Keywords
Cumulants,
Intraclass Correlation Coefficient,
Monte Carlo,
Non-normality
Citation Information
Todd C. Headrick and Bruno D. Zumbo. "A Method for Simulating Multivariate Non-normal Distributions with Specified Standarized Cumulants and Intraclass Correlation Coefficients"
Communications in Statistics: Simulation and Computation
Vol. 37 Iss. 3 (2008)
Available at: http://works.bepress.com/todd_headrick/35/