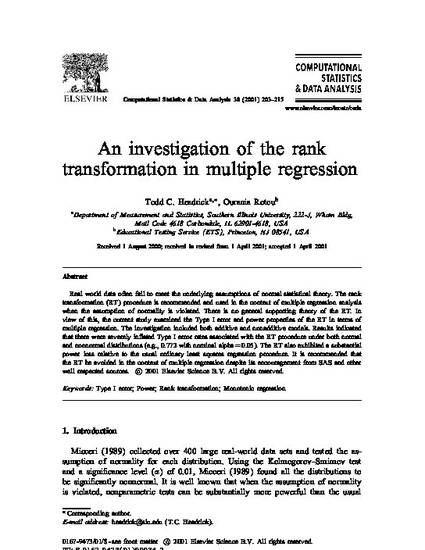 Article
An Investigation of the Rank Transformation in Multple Regression
Computatoinal Statistics and Data Analysis (2001)
Abstract
Real world data often fail to meet the underlying assumptions of normal statistical theory. The rank transformation (RT) procedure is recommended and used in the context of multiple regression analysis when the assumption of normality is violated. There is no general supporting theory of the RT. In view of this, the current study examined the Type I error and power properties of the RT in terms of multiple regression. The investigation included both additive and nonadditive models. Results indicated that there were severely inflated Type I error rates associated with the RT procedure under both normal and nonnormal distributions (e.g., 0.772 with nominal alpha =0:05). The RT also exhibited a substantial power loss relative to the usual ordinary least squares regression procedure. It is recommended that the RT be avoided in the context of multiple regression despite its encouragement from SAS and other well respected sources.
Keywords
Type I error,
Power,
Rank Transformation,
Monotonic Regression
Publication Date
December, 2001
Citation Information
Todd C. Headrick and Ourania Rotou. "An Investigation of the Rank Transformation in Multple Regression"
Computatoinal Statistics and Data Analysis
Vol. 38 Iss. 2 (2001)
Available at: http://works.bepress.com/todd_headrick/29/