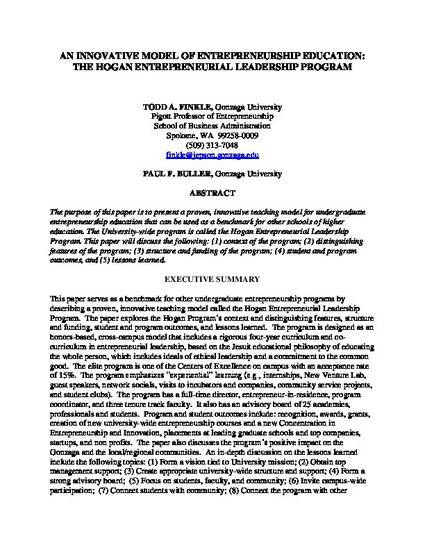 Article
An innovative model of entrepreneurship education: The Hogan Entrepreneurial Leadership Program
26th Proceedings of the Annual National United States Association for Small Business & Entrepreneurship Conference (2012)
Abstract
The purpose of this paper is to present a proven, innovative teaching model for undergraduate entrepreneurship education that can be used as a benchmark for other schools of higher education. The University-wide program is called the Hogan Entrepreneurial Leadership Program. This paper will discuss the following: (1) context of the program; (2) distinguishing features of the program; (3) structure and funding of the program
; (4) student and program outcomes,
and
(5) lessons learned.
Keywords
Entrepreneurship,
Entrepreneurship Program,
Entrepreneurship Curriculum,
Innovation,
Teaching Entrepreneurship,
Creativity,
Programs,
Curriculum,
Honors,
Non-Traditional,
Startups,
Startup,
Students,
New Ventures,
Entrepreneur
Citation Information
Todd A Finkle and Paul F Buller. "An innovative model of entrepreneurship education: The Hogan Entrepreneurial Leadership Program"
26th Proceedings of the Annual National United States Association for Small Business & Entrepreneurship Conference
(2012) p. 1173 - 1193
Available at: http://works.bepress.com/todd_finkle/91/