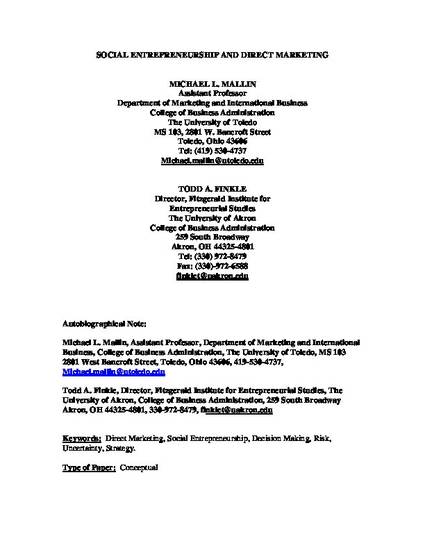 Article
Social entrepreneurship & direct marketing
Direct Marketing: An International Journal (2007)
Abstract
Purpose:  To assist the social entrepreneur with direct marketing decision, the authors examine the relationship between the risks and costs associated with direct marketing for nonprofit organizations. This is done by developing and presenting a framework centered on two uncertainty factors – the cost to implement a direct marketing solution and control over (e.g., ability to manage) resources.  A transaction cost analysis (economic) argument is used to rationalize the importance for entrepreneurs to effectively manage these two uncertainty factors when implementing a direct marketing program.  This is illustrated using a perceptual mapping of each direct marketing channel relative to the two uncertainty dimensions. 
Approach:  The paper is organized by first presenting a brief description of each direct marketing strategy relative to its use by entrepreneurs in a non-profit business environment.  These strategies include:  online, direct mail, catalogue, direct response, telephone marketing, and personal selling.  Each strategy is then compared via their placement on a perceptual map using the two uncertainty dimensions:  cost of implementation and control over direct marketing resources.
Practical Implications:  With the increasing prevalence of social entrepreneurship where the goal is to maximize returns given limited resources, this framework can become a critical tool to help nonprofit business owners first assess and then reduce the risks and uncertainties of their direct marketing strategies.   
Originality/Value:  The conceptual framework presented is the one of few that addresses the issue of risk management among direct marketing strategies in social entrepreneurship.  This can provide the basis for further research in this area to empirically validate and operationalized this framework.
Keywords
Social Entrepreneurship,
Entrepreneurship,
Non-Profit,
Entrepreneurship and Marketing,
Direct Marketing,
Direct marketing decisions,
nonprofit,
direct marketing solution,
transaction cost analysis,
direct marketing program,
direct marketing channel,
Marketing Program,
Startups,
Startup
Citation Information
Michael Mallin and Todd A Finkle. "Social entrepreneurship & direct marketing"
Direct Marketing: An International Journal
Vol. 1 Iss. 2 (2007) p. 68 - 77
Available at: http://works.bepress.com/todd_finkle/88/