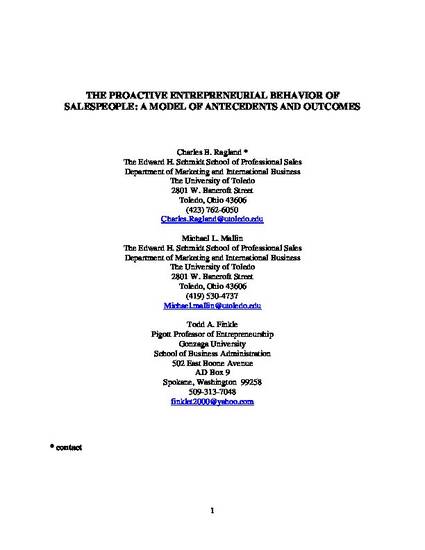 Article
The proactive entrepreneurial behavior of salespeople: A model of antecedents and outcomes
2013 National Conference in Sales Management Proceedings (2013)
Abstract
Using an interactionist perspective (Bandura 1986), we extend the existing proactive behavior literature by modeling antecedents and outcomes of the proactive entrepreneurial nature of salespeople.  Antecedents are based on the personal characteristics that define an individual as entrepreneurial.  Outcomes are based on determinants of selling performance. By sampling 157 industrial salespeople, we tested a model to confirm that salespeople tend to engage in proactive entrepreneurial behaviors when they are intrinsically motivated, confident in the tasks of selling, and willing to take risks.  These proactive behaviors resulted in our salesperson sample demonstrating high levels of behavior performance and job involvement.  Implications for research and practice are discussed.
Keywords
Entrepreneurship,
Salespeople,
Personality,
Characteristics,
Performance,
Proactivity,
Interactivist Perspective,
Proactive Behavior,
Proactive,
Sales,
Sales Management,
Antecedents,
Selling,
Selling Performance,
Intrinsic Motivation,
Startups,
Startup
Citation Information
Mallin, M., Ragland, C., & Finkle, T.A. (2013). The proactive entrepreneurial nature of salespeople: A model of antecedents and outcomes. 2013 National Conference in Sales Management Proceedings. 8-10.