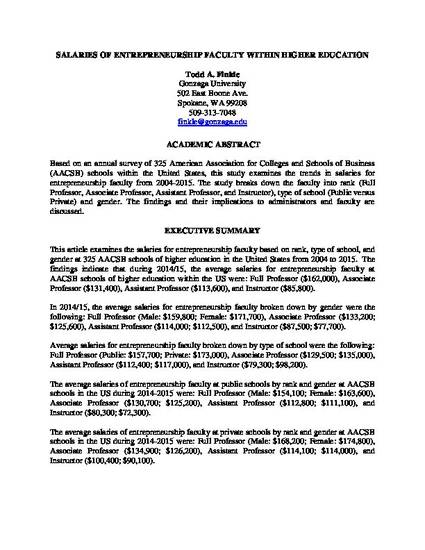 Other
SALARIES OF ENTREPRENEURSHIP FACULTY WITHIN HIGHER EDUCATION
(2016)
Abstract
Based on an annual survey of 325 American Association for Colleges and Schools of Business (AACSB) schools within the United States, this study examines the trends in salaries for entrepreneurship faculty from 2004-2015. The study breaks down the faculty into rank (Full Professor, Associate Professor, Assistant Professor, and Instructor), type of school (Public versus Private) and gender. The findings and their implications to administrators and faculty are discussed.
Keywords
Salaries,
Higher Education,
College,
Tenure Track,
Faculty,
Entrepreneurship,
Gender,
Startups,
Startup
Publication Date
Winter January 9, 2016
Citation Information
Finkle, T.A. (2016). Salaries of entrepreneurship faculty within higher education. 30th Proceedings of the Annual United States Association for Small Business and Entrepreneurship.