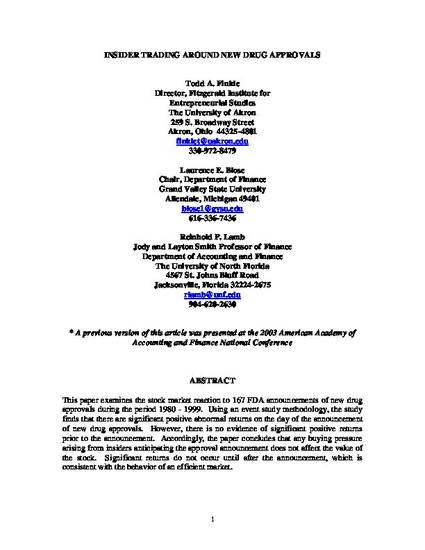 Article
Insider trading around new drug approvals
Journal of Private Enterprise (2005)
Abstract
This paper examines the stock market reaction to 167 FDA announcements of new drug approvals during the period 1980 - 1999. Using an event study methodology, the study finds that there are significant positive abnormal returns on the day of the announcement of new drug approvals. However, there is no evidence of significant positive returns prior to the announcement. Accordingly, the paper concludes that any buying pressure arising from insiders anticipating the approval announcement does not affect the value of the stock. Significant returns do not occur until after the announcement, which is consistent with the behavior of an efficient market.
Keywords
Stock Market,
Drugs,
Insider Trading,
FDA,
Stocks,
Stock Market Analysis,
Sec,
Insider Dealing,
Inside Trading,
Stock Fraud,
10b-5,
Securities and Exchange Commission,
Market Manipulation,
NEW DRUGS,
Stock Manipulation,
Drug Stocks
Citation Information
Todd A Finkle, Laurence Blose and Reinhold Lamb. "Insider trading around new drug approvals"
Journal of Private Enterprise
Vol. 21 Iss. 1 (2005) p. 75 - 99
Available at: http://works.bepress.com/todd_finkle/34/