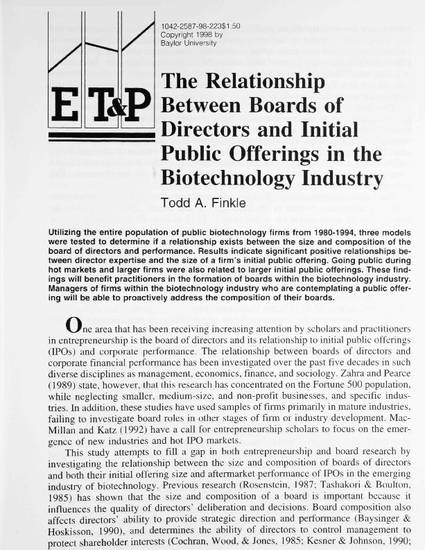 Article
The relationship between boards of directors and initial public offerings in the biotechnology industry
Entrepreneurship Theory & Practice (1998)
Abstract
Utilizing the entire population of public biotechnology firms from 1980-1994, three models were tested to determine if a relationship exists between the size and composition of the board of directors with performance. Results indicate significant positive relationships between director expertise and the size of a firm's initial public offering. Going public during hot markets and larger firms were also related to larger initial public offerings. These findings will benefit practitioners in the formation of boards within the biotechnology industry. Managers of firms within the biotechnology industry who are contemplating a public offering will be able to proactively address the composition of their boards.
Keywords
Entrepreneurship,
Board of Directors,
Performance,
IPOs,
Initial Public Offerings,
Agency Theory,
Resource Dependency Theory,
Size of the Board of Directors,
Hot Markets,
Aftermarket Performance of IPOs,
Biotechnology IPOs,
Biotechnology,
Size and Composition of the Board of Directors,
Going Public,
Startups,
Startup
Citation Information
Todd A Finkle. "The relationship between boards of directors and initial public offerings in the biotechnology industry"
Entrepreneurship Theory & Practice
Vol. 22 Iss. 3 (1998) p. 5 - 29
Available at: http://works.bepress.com/todd_finkle/11/