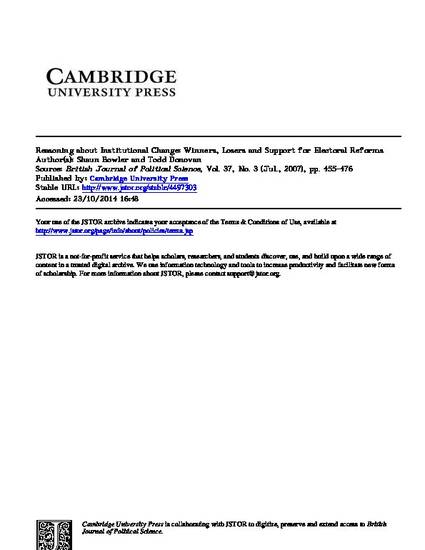 Article
Reasoning about Institutional Change: Winners, Losers and Support for Electoral Reforms
British Journal of Political Science
Publication Date
7-1-2007
Abstract
This study assesses how the mass public reasons about political institutions by examining the effects of winning and losing on support for several electoral reform proposals. The national sample survey identified majorities supporting proposals for major changes in America's electoral institutions, and that suggested electoral losses may have a modest effect in reducing losers' satisfaction with how democracy works. Random assignment experiments that tested hypotheses derived from theories of risk perception were conducted. It was found that people who saw themselves as winners and losers in the electoral arena reasoned differently when proposals for change were framed in terms of loss. Losers may be just slightly more supportive than winners of some electoral reforms; however, they appeared less sensitive than winners to framing effects that presented reform proposals in terms of the risks of loss. Winners may support the same reform proposals but their support for change decreased more when the proposals were framed as a potential loss. Winners are thus risk aversive when evaluating electoral reform proposals, while losers may even be risk seeking. Although this survey found support for major reforms, the patterns of reasoning that were identified in the mass public suggest a basis for the stability of electoral institutions.
Citation Information
Todd Donovan and Shaun Bowler. "Reasoning about Institutional Change: Winners, Losers and Support for Electoral Reforms"
British Journal of Political Science
Vol. 37 Iss. 3 (2007) p. 455 - 476
Available at: http://works.bepress.com/todd_donovan/13/