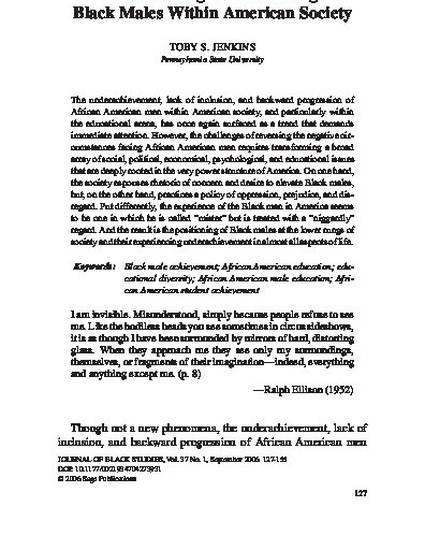 Article
MR. NIGGER The Challenges of Educating Black Males Within American Society
Journal of Black Studies (2006)
Abstract
The underachievement, lack of inclusion, and backward progression of African American men within American society, and particularly within the educational arena, has once again surfaced as a trend that demands immediate attention. However, the challenges of reversing the negative circumstances facing African American men requires transforming a broad array of social, political, economical, psychological, and educational issues that are deeply rooted in the very power structure of America. On one hand, the society espouses rhetoric of concern and desire to elevate Black males, but, on the other hand, practices a policy of oppression, prejudice, and disregard. Put differently, the experience of the Black man in America seems to be one in which he is called "mister" but is treated with a "niggardly" regard. And the result is the positioning of Black males at the lower rungs of society and their experiencing underachievement in almost all aspects of life.
Publication Date
Fall 2006
Citation Information
Toby S Jenkins. "MR. NIGGER The Challenges of Educating Black Males Within American Society"
Journal of Black Studies
(2006)
Available at: http://works.bepress.com/tobysjenkins/6/