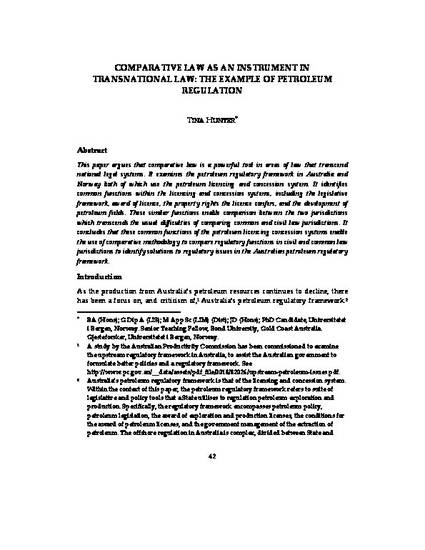 Article
Comparative law as an instrument in transnational law: The example of petroleum regulation
Bond law review
Date of this Version
12-1-2009
Document Type
Journal Article
Abstract
This paper argues that comparative law is a powerful tool in areas of law that transcend national legal systems. It examines the petroleum regulatory framework in Australia and Norway both of which use the petroleum licencing and concession system. It identifies common functions within the licencing and concession systems, including the legislative framework, award of licence, the property rights the licence confers, and the development of petroleum fields. These similar functions enable comparison between the two jurisdictions which transcends the usual difficulties of comparing common and civil law jurisdictions. It concludes that these common functions of the petroleum licencing concession systems enable the use of comparative methodology to compare regulatory functions in civil and common law jurisdictions to identify solutions to regulatory issues in the Australian petroleum regulatory framework.
Citation Information
Tina Hunter. "Comparative law as an instrument in transnational law: The example of petroleum regulation"
Bond law review
Vol. 21 Iss. 3 (2009) p. 42 - 80
Available at: http://works.bepress.com/tina_hunter1/3/