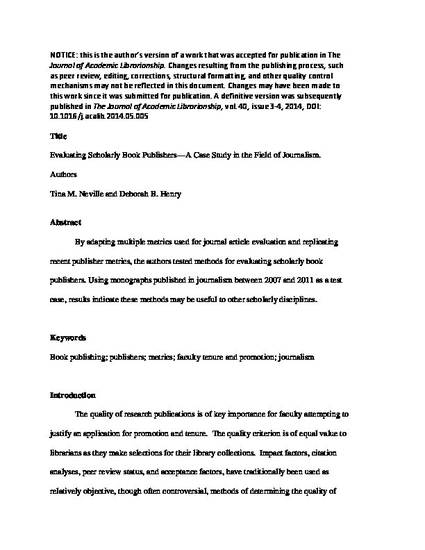 Article
Evaluating scholarly book publishers—a case study in the field of journalism.
Faculty Publications
Abstract
By adapting multiple metrics used for journal article evaluation and replicating recent publisher metrics, the authors tested methods for evaluating scholarly book publishers. Using monographs published in journalism between 2007 and 2011 as a test case, results indicate these methods may be useful to other scholarly disciplines.
Creative Commons License
Creative Commons Attribution-Noncommercial-No Derivative Works 4.0
Citation Information
Neville, T.M., & Henry, D.B. (2014). Evaluating scholarly book publishers--a case study in the field of journalism. Journal of Academic Librarianship, 40, 379-387. doi: 10.1016/j.acalib.2014.05.005