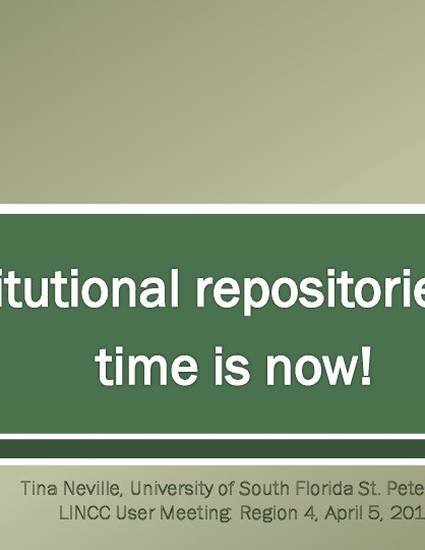 Presentation
Institutional repositories--the time is now!
Faculty Publications
Document Type
Presentation
Date Available
2012-03-30
Abstract
Librarians at USF St. Petersburg recently established an institutional repository to collect and preserve the documents and scholarly output of our institution. By preserving our organizational productivity (reports, committee minutes, images, theses, articles, etc) in one secure location, the entire campus community has quick and easy access to a wide variety of information by and about our campus. The presentation will offer tips on creating a repository of this type, consider content choices, and discuss how the repository can play a significant role in institutional planning, communication, and accreditation efforts.
Creative Commons License
Creative Commons Attribution-Noncommercial-No Derivative Works 4.0
Citation Information
Neville, T. (2012). Institutional repositories—the time is now! Presentation at the LINCC User Meeting: Region 4, Hillsborough Community College-Brandon, April 5, 2012