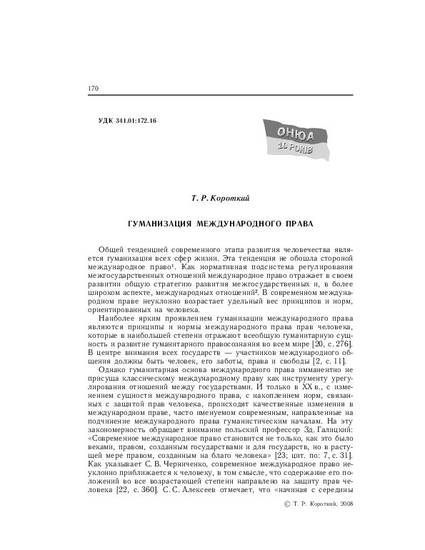 Article
Humanization of the international law
Наукові праці Одеської національної юридичної академії / Голов. ред. С.В. Ківалов (2008)
Abstract
Короткий Т.Р. Гуманизация международного права / Т.Р. Короткий // Наукові праці Одеської національної юридичної академії / Голов. ред. С.В. Ківалов. - Т. 7. - 2008. - С. 170-181
The article deals with the process of humanization of international law and the international legal system as a whole. The author discloses a complex nature of humanization of international law in terms of mainstreaming human rights. The article substantiates the role of globalization as the cause that the principle of democracy in international law. The role of triad of principles of international law (the rule of law, humanization and democratization) in international relations and ensuring peace and international security is actualized.
В статье рассматриваются процессы гуманизации международного права и международно-правовой системы в целом. Раскрыт комплексный характер гуманизации международного права в аспекте актуализации проблематики прав человека. Обоснована роль глобализации как причины закрепления принципа демократии в международном праве. Актуализирована роль триады принципов международного права (верховенство права, гуманизация, демократизация) в международных отношениях и обеспечении мира и международной безопасности.
У статті розглядаються процеси гуманізації міжнародного права і міжнародно-правової системи в цілому. Розкрито комплексний характер гуманізації міжнародного права в аспекті актуалізації проблематики прав людини. Обґрунтовано роль глобалізації як причини закріплення принципу демократії в міжнародному праві. Актуалізована роль тріади принципів міжнародного права (верховенство права, гуманізація, демократизація) в міжнародних відносинах і забезпеченні миру і міжнародної безпеки.
Keywords
гуманизация международного права,
права и свободы индивида,
глобальные проблемы,
надгосударственные органы,
демократизация международного права,
глобализация права,
индивидуализация международной ответственности,
верховенство права,
гуманізація міжнародного права,
права і свободи індивіда,
глобальні проблеми,
наддержавні органи,
демократизація міжнародного права,
глобалізація права,
індивідуалізація міжнародної відповідальності,
верховенство права,
humanization of international law,
individual's rights and freedoms,
global problems,
supranational bodies,
democratization of international law,
globalization of law,
indavidualization of the international responsibility,
rule of law
Citation Information
Timur R. Korotkiy. "Humanization of the international law"
Наукові праці Одеської національної юридичної академії / Голов. ред. С.В. Ківалов
Vol. 7 (2008)
Available at: http://works.bepress.com/timur_korotkiy/1/