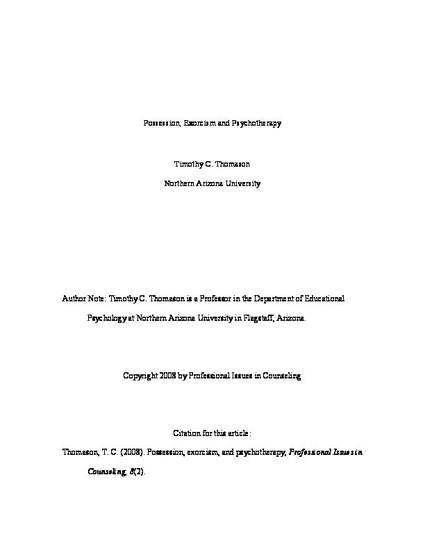 Article
Possession, Exorcism, and Psychotherapy
Professional Issues in Counseling (2008)
Abstract
For all of recorded history, almost all human beings have believed in a spiritual plane of existence that somehow interacts with people in their daily life. A common belief is that souls, spirits, and demons exist, and that evil spirits can invade people and cause illness, especially mental illness. Throughout history the preferred method for eliminating evil spirits has been some form of ritual invocation or exorcism. Rather than dying out, belief in spirits, demons, and the supernatural is widespread today, in both highly industrialized societies like the U.S. and in less technologically developed countries. An understanding of how these beliefs came about and how they are practiced today can help psychologists provide appropriate services for clients with such beliefs.
Keywords
possession,
exorcism,
psychotherapy
Citation Information
Timothy Thomason. "Possession, Exorcism, and Psychotherapy"
Professional Issues in Counseling
Vol. 8 Iss. 2 (2008)
Available at: http://works.bepress.com/timothy_thomason/18/