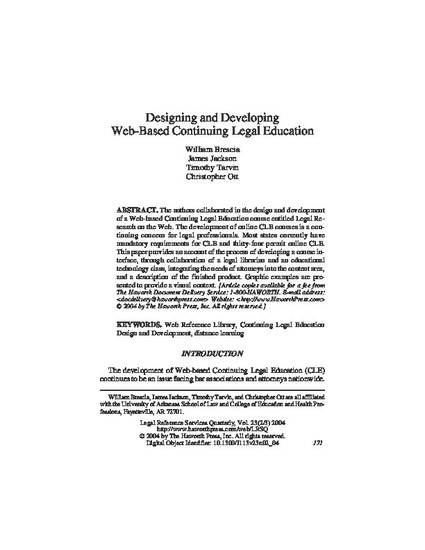 Article
Designing and Developing Web-Based Continuing Legal Education
Legal Reference Services Quarterly (2004)
Abstract
The development of Web-based Continuing Legal Education ("CLE") courses is becoming increasingly important to the legal profession and legal education. Forty states currently have mandatory requirements for continuing legal education, many of which permit online CLE. In a collaborative project at the University of Arkansas, a product was designed and developed to serve as a model for future Web-based CLE. This paper provides an account of the process of developing a course interface, the process used to coordinate class activities with the client, and a description of the finished product. Because the course was developed exclusively in an academic environment, the results are given particular attention. These processes and results may be of interest to those considering a similar interdepartmental collaboration to develop asynchronous online CLE-ware. The benefits of Web-based CLE to the legal profession include: more affordable and accessible programs, increased variety of course offerings, and more rapid dissemination of information related to changes in the law. Collaboration between learners and instructors in the development of an online CLE course offers many practical benefits for those seeking convenient and cost-effective CLE.
Keywords
Web-based Continuing Legal Education,
CLE,
legal education,
asynchronous course,
web design,
continuing education,
learning,
website,
educational technology,
higher education,
instructional delivery system
Citation Information
Timothy R Tarvin, William Brescia, James Jackson and Christopher Ott. "Designing and Developing Web-Based Continuing Legal Education"
Legal Reference Services Quarterly
Vol. 23 Iss. 2 (2004) p. 171
Available at: http://works.bepress.com/timothy_tarvin/4/