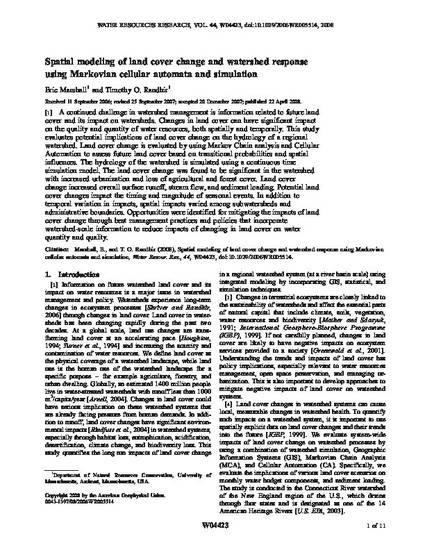 Article
Spatial Modeling of Land Cover Change and Watershed Response using Markovian Cellular Automata and Simulation
Water Resources Research (2008)
Abstract
A continued challenge in watershed management is information related to future land cover and its impact on watersheds. Changes in land cover can have significant impact on the quality and quantity of water resources, both spatially and temporally. This study evaluates potential implications of land cover change on the hydrology of a regional watershed. Land cover change is evaluated by using Markov Chain analysis and Cellular Automation to assess future land cover based on transitional probabilities and spatial influences. The hydrology of the watershed is simulated using a continuous time simulation model. The land cover change was found to be significant in the watershed with increased urbanization and loss of agricultural and forest cover. Land cover change increased overall surface runoff, stream flow, and sediment loading. Potential land cover changes impact the timing and magnitude of seasonal events. In addition to temporal variation in impacts, spatial impacts varied among subwatersheds and administrative boundaries. Opportunities were identified for mitigating the impacts of land cover change through best management practices and policies that incorporate watershed-scale information to reduce impacts of changing in land cover on water quantity and quality.
Citation Information
Timothy O. Randhir and Eric Marshall. "Spatial Modeling of Land Cover Change and Watershed Response using Markovian Cellular Automata and Simulation"
Water Resources Research
Vol. 44 (2008)
Available at: http://works.bepress.com/timothy_randhir/2/