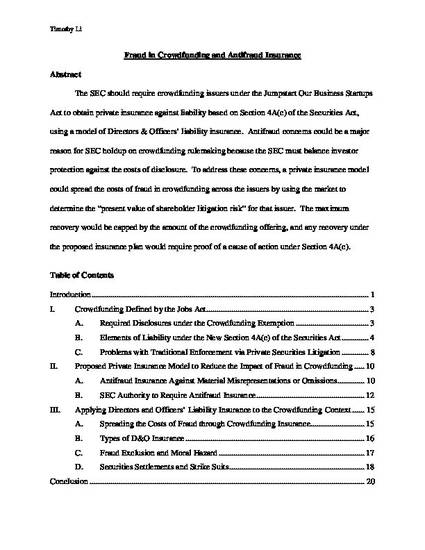 Unpublished Paper
Fraud in Crowdfunding and Antifraud Insurance
ExpressO (2013)
Abstract
The SEC should require crowdfunding issuers under the Jumpstart Our Business Startups Act to obtain private insurance against liability based on Section 4A(c) of the Securities Act, using a model of Directors & Officers' liability insurance. Antifraud concerns could be a major reason for SEC holdup on crowdfunding rulemaking because the SEC must balance investor protection against the costs of disclosure. To address these concerns, a private insurance model could spread the costs of fraud in crowdfunding across the issuers by using the market to determine the "present value of shareholder litigation risk" for that issuer. The maximum recovery would be capped by the amount of the crowdfunding offering, and any recovery under the proposed insurance plan would require proof of a cause of action under Section 4A(c).
Keywords
crowdfunding,
crowdfunding insurance,
fraud in crowdfunding,
antifraud insurance,
Directors and Officers Liability Insurance,
d&o insurance,
d & o,
Section 4A(c) of the Securities Act,
Section 4(a)(6) of the Securities Act,
Rule 504
Citation Information
Timothy Li. "Fraud in Crowdfunding and Antifraud Insurance"
ExpressO
(2013)
Available at: http://works.bepress.com/timothy_li/2/