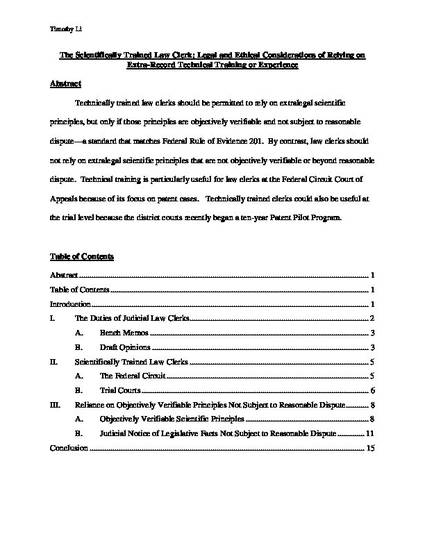 Unpublished Paper
The Scientifically Trained Law Clerk: Legal and Ethical Considerations of Relying on Extra-Record Technical Training or Experience
ExpressO (2013)
Abstract
Technically trained law clerks should be permitted to rely on extralegal scientific principles, but only if those principles are objectively verifiable and not subject to reasonable dispute—a standard that matches Federal Rule of Evidence 201. By contrast, law clerks should not rely on extralegal scientific principles that are not objectively verifiable or beyond reasonable dispute. Technical training is particularly useful for law clerks at the Federal Circuit Court of Appeals because of its focus on patent cases. Technically trained clerks could also be useful at the trial level because the district courts recently began a ten-year Patent Pilot Program.
Keywords
techincally trained law clerks,
scientifically trained law clerks,
objectively verifiable knowledge not subject to reasonable dispute,
federal rule of evidence 201
Publication Date
May 12, 2013
Citation Information
Timothy Li. "The Scientifically Trained Law Clerk: Legal and Ethical Considerations of Relying on Extra-Record Technical Training or Experience"
ExpressO
(2013)
Available at: http://works.bepress.com/timothy_li/1/