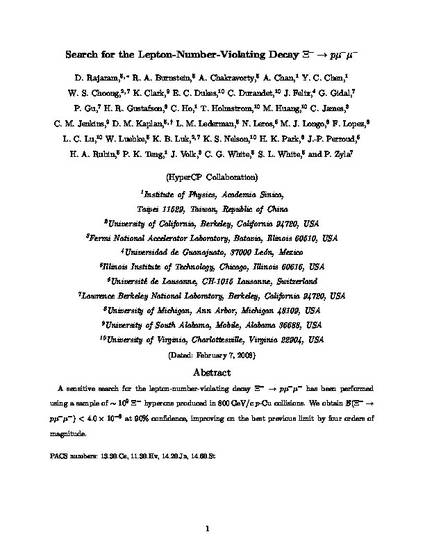 Article
Search for the Lepton-Number-Violating Decay Ξ-→pμ-μ-
Physical Review Letters
Publication Date
5-10-2005
Abstract
A sensitive search for the lepton-number-violating decay Ξ-→pμ-μ- has been performed using a sample of ∼109  Ξ- hyperons produced in 800  GeV/c p-Cu collisions. We obtain B(Ξ-→pμ-μ-)<4.0×10-8 at 90% confidence, improving on the best previous limit by 4 orders of magnitude.
DOI
10.1103/PhysRevLett.94.181801
Original Citation
Phys. Rev. Lett. 94, 181801 (2005)
Citation Information
D. Rajaram, Timothy Holmstrom and HyperCP Collaboration. "Search for the Lepton-Number-Violating Decay Ξ-→pμ-μ-"
Physical Review Letters
Vol. 94 Iss. 18 (2005) p. 181801-1 - 181801-5
Available at: http://works.bepress.com/timothy_holmstrom/4/