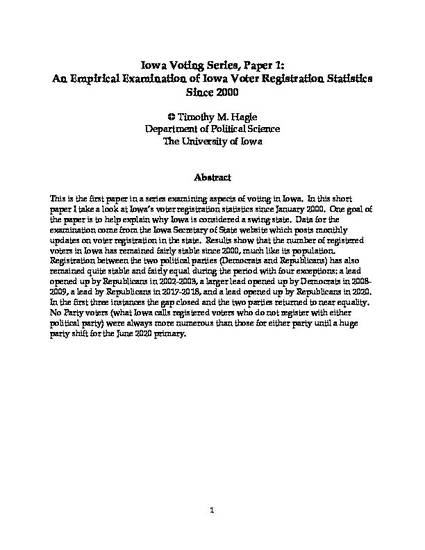 Unpublished Paper
Iowa Voting Series, Paper 1: An Empirical Examination of Iowa Voter Registration Statistics Since 2000
Iowa Voting Series (2021)
Abstract
This is the first paper in a series examining aspects of voting in Iowa. In this short paper I take a look at Iowa's voter registration statistics since January 2000. One goal of the paper is to help explain why Iowa is considered a swing state. Data for the examination come from the Iowa Secretary of State website which posts monthly updates on voter registration in the state. Results show that the number of registered voters in Iowa has remained fairly stable since 2000, much like its population. Registration between the two political parties (Democrats and Republicans) has also remained quite stable and fairly equal during the period with four exceptions: a lead opened up by Republicans in 2002-2003, a larger lead opened up by Democrats in 2008-2009, a lead by Republicans in 2017-2018, and a lead opened up by Republicans in 2020. In the first three instances the gap closed and the two parties returned to near equality. No Party voters (what Iowa calls registered voters who do not register with either political party) were always more numerous than those for either party until a huge party shift for the June 2020 primary.
Keywords
Iowa,
voter,
registration
Citation Information
Timothy M. Hagle. "Iowa Voting Series, Paper 1: An Empirical Examination of Iowa Voter Registration Statistics Since 2000"
Iowa Voting Series
(2021)
Available at: http://works.bepress.com/timothy_hagle/57/