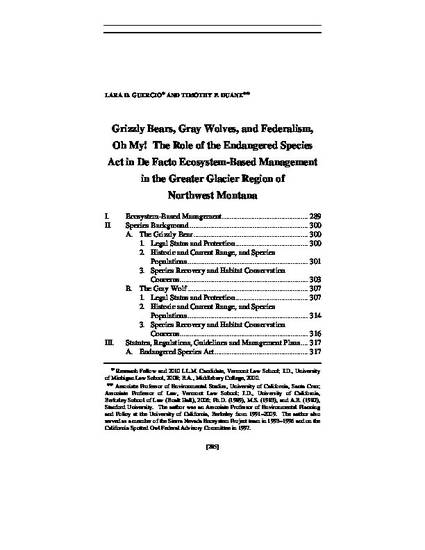 Article
GRIZZLY BEARS, GRAY WOLVES AND FEDERALISM, OH MY! THE ROLE OF THE ENDANGERED SPECIES ACT IN DE FACTO ECOSYSTEM-BASED MANAGEMENT IN THE GREATER GLACIER REGION OF NORTHWEST MONTANA
Journal of Environmental Law and Litigation (2010)
Abstract
This Article, which examines both current and historic grizzly bear (Ursus arctos) and gray wolf (Canis lupus) recovery and habitat conservation efforts in the Greater Glacier Region of northwestern Montana, reviews and evaluates the aggregated effects of local, state, federal and tribal regulatory actors on the eco-regional success of grizzly and wolf recovery and habitat conservation and the role the Endangered Species Act has played in these efforts. While regulatory actors operate in close proximity to each other in and around Glacier National Park, clear jurisdictional boundaries limit the scope of their respective state, federal and tribal authority over the both public and private land use-based activities. Each agency or governmental actor is charged with implementing its respective controlling statutes under separate regulations, departmental guidelines and management plans. With the recent delisting of the gray wolf by the U.S. Fish and Wildlife Service from the Endangered Species Act (ESA), more regulatory authority over wolf management on private and state lands has shifted to approved state wildlife programs, specifically the Montana Department of Fish, Wildlife and Parks. However, grizzly management on these lands continues to be subject to federal authority and regulatory oversight under the ESA. This case study assesses the relative regional success of recovery and habitat conservation efforts to date for the grizzly and wolf, the likely effects of delisting on future wolf conservation and management in northwestern Montana and the Greater Glacier Region, as well as existing and potential issues raised by abutting federal, state and tribal jurisdictional boundary lines for ecosystem-based management and habitat conservation for wide-ranging predator species. We argue that the Endangered Species Act has been and will continue to be the most important institutional ingredient driving de facto ecosystem-based management in the region.
Keywords
Endangered Species Act,
federalism,
ecosystem-based management,
state wildlife management
Publication Date
Spring 2010
Citation Information
"GRIZZLY BEARS, GRAY WOLVES AND FEDERALISM, OH MY! THE ROLE OF THE ENDANGERED SPECIES ACT IN DE FACTO ECOSYSTEM-BASED MANAGEMENT IN THE GREATER GLACIER REGION OF NORTHWEST MONTANA"
Journal of Environmental Law and Litigation
Vol. 24 Iss. Spring (2010) p. 285 - 366
Available at: http://works.bepress.com/timothy_duane/1/