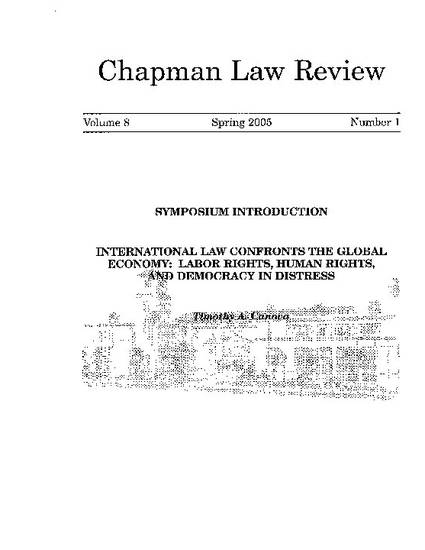 Article
Symposium Introduction: International Law Confronts the Global Economy: Labor Rights, Human Rights, and Democracy in Distress
Chapman Law Review (2006)
Abstract
As the pace of globalization has intensified, lawyers and scholars continue to develop an appreciation for the many ways their own areas of expertise and practice relate to the global economy. This symposium issue of the Chapman Law Review, featuring papers presented at the inaugural conference of Chapman University's Center for Global Trade & Development, reflects the dynamic and evolving relationship between international law and the global economy, and the profound impacts of each on the course of democracy and human rights in the world today.
Each of our contributors were asked to consider the various ways that international law confronts the global economy for the purposes of protecting labor rights, human rights, and substantive and procedural norms of democracy. The term confrontation suggests an encounter of two expanses, international law and international economics, each worthy of study in its own right, and each suddenly filled with great uncertain potentials to alter and shape the other.
Contributors presented papers on a wide range of international legal confrontations, including global efforts to protect the environment, address future energy demands, and promote sustainable development; the many consequences of the emergence of the People's Republic of China in world trade; human rights litigation in U.S. and foreign forums; the role of international financial institutions in addressing labor standards and human rights in developing countries; the protection of indigenous rights and culture; the legal and extra-legal treatment of immigrant workers; and the development of socially responsible investment policies and codes of conduct for the protection of labor and human rights.
Keywords
International Trade,
International Monetary Fund,
World Bank,
Fiscal Policy,
Monetary Policy,
World Trade Organization,
International Litigation,
Globalization
Citation Information
Timothy A. Canova. "Symposium Introduction: International Law Confronts the Global Economy: Labor Rights, Human Rights, and Democracy in Distress"
Chapman Law Review
Vol. Vol. 8 Iss. No. 1 (2006)
Available at: http://works.bepress.com/timothy_canova/5/