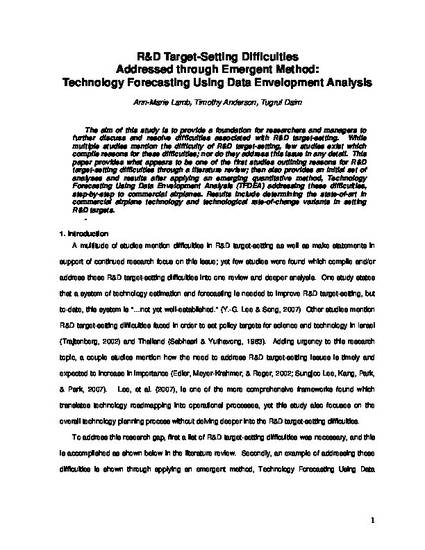 Article
R&D Target-Setting Difficulties Addressed through Emergent Method: Technology Forecasting Using Data Envelopment Analysis
R&D Management
Publication Date
1-1-2012
Subjects
Technological forecasting,
Data envelopment analysis,
Research and development projects -- Management
Abstract
The aim of this study is to provide a foundation for researchers and managers to further discuss and resolve difficulties associated with R&D target-setting. While multiple studies mention the difficulty of R&D target-setting, few studies exist which compile reasons for these difficulties; nor do they address this issue in any detail. This paper provides what appears to be one of the first studies outlining reasons for R&D target-setting difficulties through a literature review; then also provides an initial set of analyses and results after applying an emerging quantitative method, Technology Forecasting Using Data Envelopment Analysis (TFDEA) addressing these difficulties, step-by-step to commercial airplanes. Results include determining the state-of-art in commercial airplane technology and technological rate-of-change variants in setting R&D targets.
DOI
10.1111/j.1467-9310.2012.00687.x
Persistent Identifier
http://archives.pdx.edu/ds/psu/9283
Citation Information
Ann-Marie Lamb, Timothy R. Anderson and Tugrul Unsal Daim. "R&D Target-Setting Difficulties Addressed through Emergent Method: Technology Forecasting Using Data Envelopment Analysis"
R&D Management
(2012)
Available at: http://works.bepress.com/timothy_anderson/11/