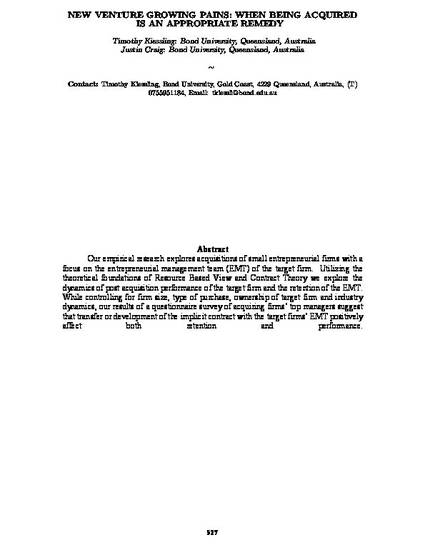 Presentation
New venture growing pains: When being acquired is an appropriate remedy
5th AGSE international entrepreneurship research exchange (2008)
Abstract
Our empirical research explores acquisitions of small entrepreneurial firms with a focus on the entrepreneurial management team (EMT) of the target firm. Utilizing the theoretical foundations of Resource Based View and Contract Theory we explore the dynamics of post acquisition performance of the target firm and the retention of the EMT. While controlling for firm size, type of purchase, ownership of target firm and industry dynamics, our results of a questionnaire survey of acquiring firms' top managers suggest that transfer or development of the implicit contract with the target firms' EMT positively affect both retention and performance.
Keywords
entrepreneurial management team,
EMT,
acquisition,
performance,
resource based view
Publication Date
February 8, 2008
Citation Information
Timothy Kiessling and Justin B. Craig. "New venture growing pains: When being acquired is an appropriate remedy"
5th AGSE international entrepreneurship research exchange
(2008)
Available at: http://works.bepress.com/tim_kiessling/8/