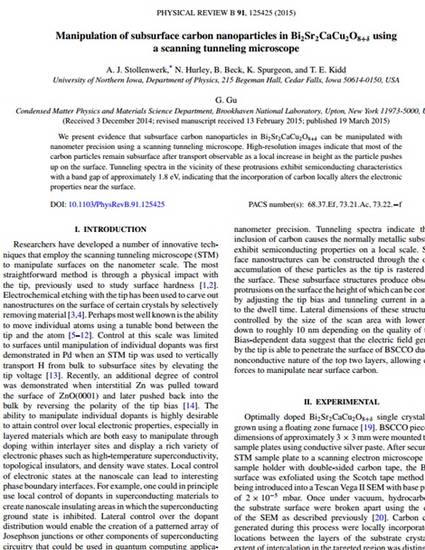 Article
Manipulation of Subsurface Carbon Nanoparticles in Bi2 Sr2 CaCu2 O8+δ Using a Scanning Tunneling Microscope
Physical Review (2015)
Abstract
We present evidence that subsurface carbon nanoparticles in 
Bi
2
Sr
2
CaCu
2
O
8+
δ
 can be manipulated with nanometer precision using a scanning tunneling microscope. High-resolution images indicate that most of the carbon particles remain subsurface after transport observable as a local increase in height as the particle pushes up on the surface. Tunneling spectra in the vicinity of these protrusions exhibit semiconducting characteristics with a band gap of approximately 1.8 eV, indicating that the incorporation of carbon locally alters the electronic properties near the surface.
Publication Date
March 19, 2015
Citation Information
Andrew J. Stollenwerk, N. Hurley, B. Beck, K. Spurgeon, et al.. "Manipulation of Subsurface Carbon Nanoparticles in Bi2 Sr2 CaCu2 O8+δ Using a Scanning Tunneling Microscope"
Physical Review
Vol. 91 (2015)
Available at: http://works.bepress.com/tim-kidd/4/