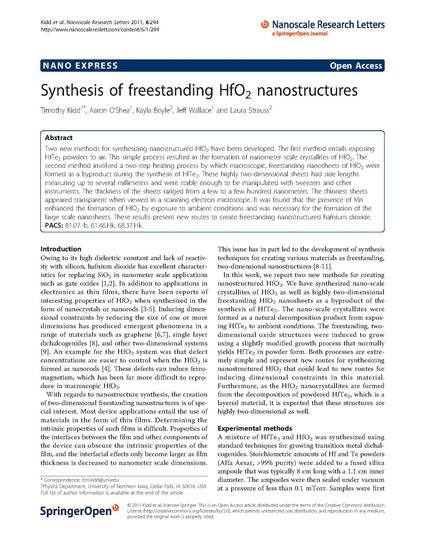 Article
Synthesis of Freestanding HfO2 Nanostructures
Nanoscale Research Letters (2011)
Abstract
Two new methods for synthesizing nanostructured HfO
2
 have been developed. The first method entails exposing HfTe
2
 powders to air. This simple process resulted in the formation of nanometer scale crystallites of HfO
2
. The second method involved a two-step heating process by which macroscopic, freestanding nanosheets of HfO
2
 were formed as a byproduct during the synthesis of HfTe
2
. These highly two-dimensional sheets had side lengths measuring up to several millimeters and were stable enough to be manipulated with tweezers and other instruments. The thickness of the sheets ranged from a few to a few hundred nanometers. The thinnest sheets appeared transparent when viewed in a scanning electron microscope. It was found that the presence of Mn enhanced the formation of HfO
2
 by exposure to ambient conditions and was necessary for the formation of the large scale nanosheets. These results present new routes to create freestanding nanostructured hafnium dioxide.
Publication Date
March 5, 2011
DOI
10.1186/1556-276X-6-294
Citation Information
Tim Kidd, Aaron O'Shea, Kayla R. Boyle, Jeff Wallace, et al.. "Synthesis of Freestanding HfO2 Nanostructures"
Nanoscale Research Letters
Vol. 6 Iss. 294 (2011)
Available at: http://works.bepress.com/tim-kidd/17/