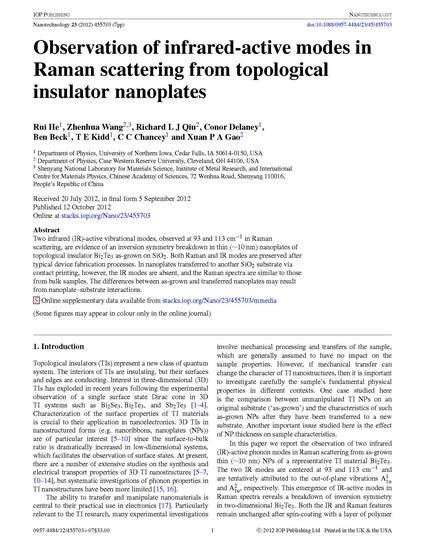 Article
Observation of Infrared-Active Modes in Raman Scattering from Topological Insulator Nanoplates
Nanotechnology (2012)
Abstract
Two infrared (IR)-active vibrational modes, observed at 93 and 113 cm
−1
 in Raman scattering, are evidence of an inversion symmetry breakdown in thin (~10 nm) nanoplates of topological insulator Bi
2
Te
3
 as-grown on SiO
2
. Both Raman and IR modes are preserved after typical device fabrication processes. In nanoplates transferred to another SiO
2
substrate via contact printing, however, the IR modes are absent, and the Raman spectra are similar to those from bulk samples. The differences between as-grown and transferred nanoplates may result from nanoplate–substrate interactions.
Publication Date
October 12, 2012
DOI
doi:10.1088/0957-4484/23/45/455703
Citation Information
Tim Kidd. "Observation of Infrared-Active Modes in Raman Scattering from Topological Insulator Nanoplates"
Nanotechnology
Vol. 23 Iss. 45 (2012)
Available at: http://works.bepress.com/tim-kidd/12/