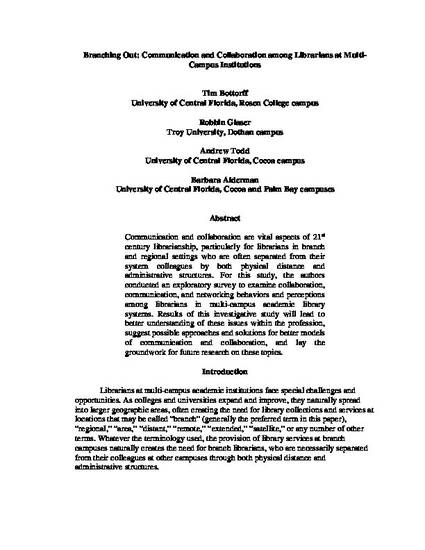 Article
Branching Out: Communication and Collaboration among Librarians at Multi-Campus Institutions
Faculty Scholarship and Creative Works
Personal Identifier
10.1080/01930820802289391
Keywords
Librarianship, libraries, branch libraries, academic libraries, communication, collaboration, networking
Abstract
Communication and collaboration are vital aspects of 21st century librarianship, particularly for librarians in branch and regional settings who are often separated from their system colleagues by both physical distance and administrative structures. For this study, the authors conducted an exploratory survey to examine collaboration, communication, and networking behaviors and perceptions among librarians in multi-campus academic library systems. Results of this investigative study will lead to better understanding of these issues within the profession, suggest possible approaches and solutions for better models of communication and collaboration, and lay the groundwork for future research on these topics.
Publication Date
1-1-2008
Source Title
Journal of Library Administration
Publication Version
Post-print
College
Information Technologies & Resources
Location
Rosen College of Hospitality Management
Department
University Libraries, Rosen Library
Citation Information
Bottorff, T., Glaser, R., Todd, A., & Alderman, B. (2008). Branching out: Communication and collaboration among librarians at multi-campus institutions. Journal of Library Administration 48(3-4), 329-363.