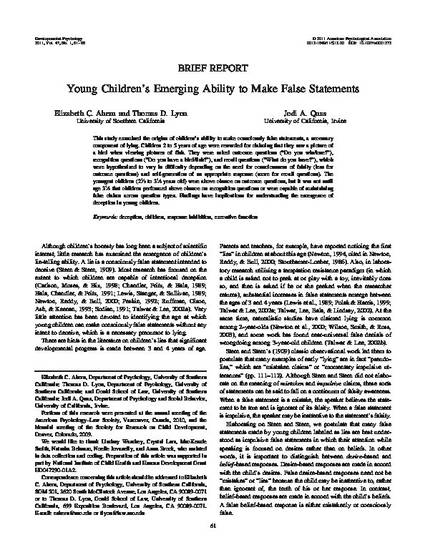 Article
22. Young children's emerging ability to make false statements.
Developmental Psychology (Published 2011) (2010)
Abstract
This study examined the origins of children's ability to make consciously false statements, a necessary component of lying. Children 2 to 5 years of age were rewarded for claiming that they saw a picture of a bird when viewing pictures of fish. They were asked outcome questions ("Do you win/lose?"), recognition questions ("Do you have a bird/fish?"), and recall questions ("What do you have?"), which were hypothesized to vary in difficulty depending on the need for consciousness of falsity (less for outcome questions) and self-generation of an appropriate response (more for recall questions). The youngest children (21⁄2 to 31⁄2 years old) were above chance on outcome questions, but it was not until age 31⁄2 that children performed above chance on recognition questions or were capable of maintaining false claims across question types. Findings have implications for understanding the emergence of deception in young children.
Keywords
child witnesses,
child abuse,
child neglect,
child development,
child psychology
Publication Date
May, 2010
Citation Information
Ahern, E. C., Lyon, T. D., & Quas, J. A. (2011). Young children's emerging ability to make false statements. Developmental Psychology, 47, 61-66.