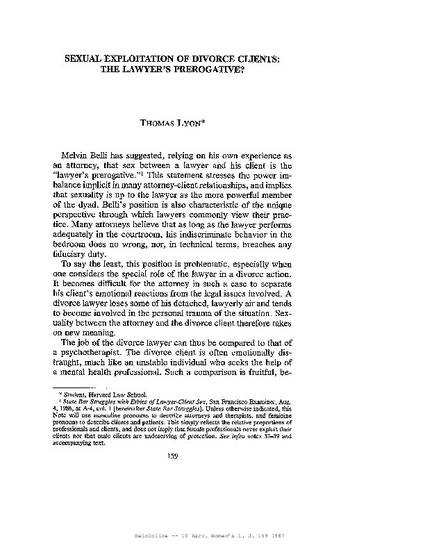 Article
1. Sexual exploitation of divorce clients: The lawyer's prerogative
Harvard Women's Law Journal (1987)
Abstract
Melvin Belli has suggested, relying on his own experience as an attorney, that sex between a lawyer and his client is the "lawyer's prerogative."  This statement stresses the power imbalance implicit in many attorney-client relationships, and implies that sexuality is up to the lawyer as the more powerful member of the dyad.  Belli's position is also characteristic of the unique perspective through  which lawyers commonly view their practice.  Many attorneys believe that as long as the lawyer performs adequately in the courtroom, his indiscriminate behavior  in the bedroom does no wrong, nor, in technical terms, breaches any fiduciary duty.
Keywords
child abuse,
sexual exploitation,
divorce
Publication Date
August, 1987
Citation Information
Lyon, T. D. (1987). Sexual exploitation of divorce clients: The lawyer's prerogative?
Harvard Women's Law Journal, 10,
159-201.