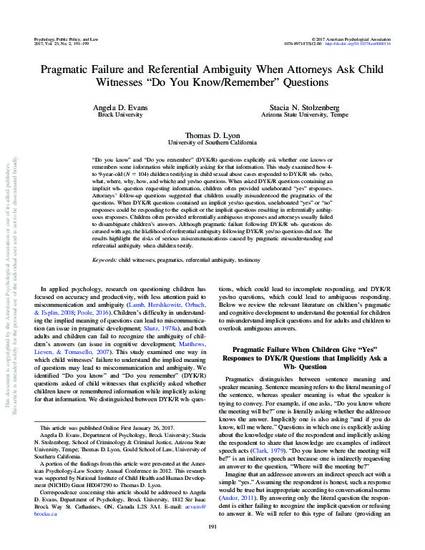 Article
56. Pragmatic Failure and Referential Ambiguity when Attorneys Ask Child Witnesses "Do You Know/Remember" Questions.
Psychology, Public Policy, & Law (Published 2017) (2016)
Abstract
"Do you know" and "Do you remember" (DYK/R) questions explicitly ask whether one knows or remembers some information while implicitly asking for that information. This study examined how 104 4- to 9-year-old children testifying in child sexual abuse cases responded to DYK/R wh- and yes/no questions. When asked DYK/R questions containing an implicit wh- question requesting information, children often provided unelaborated "Yes" responses. Attorneys' follow-up questions suggested that children usually misunderstood the pragmatics of the questions. When DYK/R questions contained an implicit yes/no question, unelaborated "Yes" or "No" responses could be responding to the explicit or the implicit questions resulting in referentially ambiguous responses. Children often provided referentially ambiguous responses and attorneys usually failed to disambiguate children's answers. Although pragmatic failure following DYK/R wh- questions decreased with age, the likelihood of referential ambiguity following DYK/R yes/no questions did not. The results highlight the risks of serious miscommunications caused by pragmatic misunderstanding and referential ambiguity when children testify.
Keywords
Child witnesses,
pragmatics,
referential ambiguity,
child testimony,
child abuse,
child neglect
Publication Date
December 19, 2016
Citation Information
Evans, A.D., Stolzenberg, S.N., & Lyon, T.D. (2017). Pragmatic failure and referential ambiguity when attorneys ask child witnesses "Do you know/remember" questions. Psychology, Public Policy, & Law, 23, 191-199.