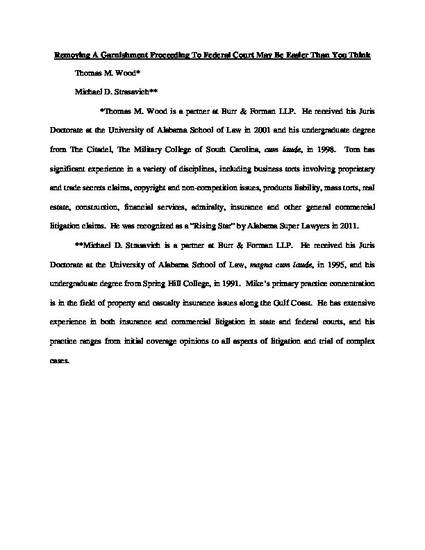 Unpublished Paper
Removing A Garnishment Proceeding To Federal Court May Be Easier Than You Think
ExpressO (2011)
Abstract
Garnishment proceedings commencing after even a year of litigation between non-diverse parties in state court actions are still removable in most jurisdictions. Two recent district court opinions from Alabama and Mississippi re-affirm this prevailing view. The threshold question these courts have faced is whether the garnishment action is separate and independent, or merely ancillary, to the main civil action against the alleged insured. Here is a typical example:
A sues B in tort. B may seek insurance coverage from C, and C denies coverage for B but does not elect to file a action for declaratory judgment on the coverage issue. A obtains a judgment against B for liability in tort. A pursues C with a writ of garnishment, seeking to establish coverage and collect on the judgment against B from C.
Under the apparent prevailing view in most federal courts is that this writ of garnishment, or however it is described under state law or procedure, is a new action, separate and independent of the original action (in tort, as in the example above) against the alleged insured and, therefore, removable under federal law. Not all courts agree, and the courts reach conclusions with differing analysis. Recent opinions from Alabama and Mississippi appear to present the most logical analysis of the issue presented and shows strong support for the prevailing authorities holding that federal removal jurisdiction is proper in this typical situation, rejecting multiple attacks on jurisdiction to deny motions for remand.
The Supreme Court of the United States has established that the determination of removal jurisdiction is a question of federal law, not state law. Uniformly applying federal law to the question of removability of a garnishment proceeding, the Fifth Circuit and Eighth Circuit have held firmly for decades that a garnishment is a new action and, thus, removable. The Eighth Circuit has noted disagreement existing on whether a garnishment is a "civil action," and presented a compelling analysis based on Supreme Court precedent that it is, indeed, a "suit or civil action which may be removed," quoting Chief Justice Marshall on the term "suit". Based on these authorities, the Eleventh Circuit and other appellate courts have agreed, "that the garnishment proceedings [are] separate cause[s] of action." These authorities support the conclusion that a garnishment proceeding is a separate and independent civil action and, therefore, removable under 28 U.S.C. § 1441(a). The most recent decisions appear to agree.
The Southern District of Alabama and Southern District of Mississippi have each recently analyzed several attacks on the courts' federal removal jurisdiction over garnishment proceedings removed under circumstances similar to those presented in the above typical example. The courts' detailed analysis in Armentrout v. Atlantic Cas. Ins. Co., 731 F. Supp. 2d 1249 (S.D. Ala. 2d 2010) and Mabins v. Alfa Ins. Co., 2010 U.S. Dist. LEXIS 70492 (S.D. Miss. June 23, 2010), may assist practitioners in support a defendant's burden of establishing federal removal jurisdiction, especially in circuits where the law on this issue is not so well-established. With the view and understanding of the majority of courts that a garnishment proceeding is a new suit or separate and independent civil action from the related action reaching judgment against an alleged insured, which is based on federal procedural law, all attempts to remand then appear flaccid.
A new action effectively arises on a writ of garnishment. So the operative commencement date is the date of filing the writ of garnishment, not when the lawsuit against the alleged insured was filed. Complete diversity often exists between a judgment creditor/plaintiff and insurer when he commences a new suit or separate and independent action for garnishment, against the insurer of diverse citizenship. The courts have held the citizenship of the original defendant, or debtor/tortfeasor, is irrelevant because he is essentially aligned (or in fact re-aligned) with the plaintiff against the insurer, and repeated clearly by the Mississippi court in Mabins.
Some attack federal jurisdiction to suggest that the garnishment proceeding is a "direct action" within the meaning of 28 U.S.C. § 1332(c). This argument fails based on clear authority from across the jurisdictions. A garnishment action is not a "direct action" against an insured after the garnishor has obtained a judgment against the alleged insured because the liability the garnishor/plaintiff seeks to impose on the insurer is very different from that liability adjudicated against the insured. Complete diversity still exists despite the federal statutory mandate in 28 U.S.C. § 1332(c)(1), that the insurer generally be deemed a resident of the alleged insured/judgment debtor/co-defendant. The Armentrout court upheld this view based on prior Eleventh Circuit precedent.
The assertion that a garnishee is not a "defendant" entitled to remove appears unsupportable and also at odds with at least the law of the Eleventh Circuit. When argued recently in Armentrout, the Southern District of Alabama followed prior and quickly rejected this and other arguments.
With the added support from Armentrout and Mabins, insurance counsel should more strongly consider removal of garnishment proceedings.
Keywords
garnishment,
removal,
federal jurisdiction,
insurance
Publication Date
May 26, 2011
Citation Information
Thomas M Wood. "Removing A Garnishment Proceeding To Federal Court May Be Easier Than You Think"
ExpressO
(2011)
Available at: http://works.bepress.com/thomas_wood/1/