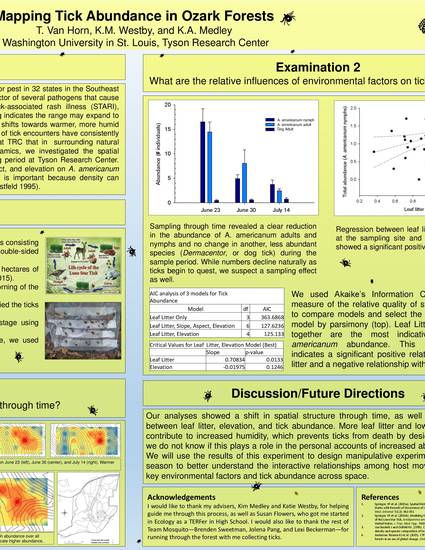 Presentation
Mapping Tick Abundance in Ozark Forests
Washington University in St. Louis Undergraduate Research Symposium (2016)
Abstract
The Lone Star Tick (Amblyomma americanum) is a common outdoor pest in the Missouri Ozarks and the vector of several pathogens that cause disease in humans, including Monocytic Ehrlichiosis, Southern Tick-Associated Rash Illness (STARI), and a recently identified red meat allergy. This tick is an active questing species that primarily feeds on deer and small mammals and frequently comes in contact with humans. While much is known about the life cycle and host preference of A. americanum, few have examined the landscape-scale abundance of this vector species. In this preliminary study, we investigated the abundance of tick species at the Tyson Research Center Forest Dynamics Plot to better understand the environmental factors that influence tick abundance. We sampled at 40 locations spaced regularly across a 20 hectare plot on three days during the summer of 2015. Captured ticks were identified to species and developmental life stage recorded. A total of 2008 A. americanum individuals were collected over the course of the study, consisting of 1009 nymphs and 999 adults. We used Esri ArcGIS software to create kriging overlays of the plot to visualize the data. These show a clear temporal effect in the data, with many more ticks being collected at the beginning of the season than the end. The data for each life stage and date was also analyzed against plot data—leaf litter mass, slope, aspect, and elevation—to determine any correlative relationships. We will use the results of this experiment to design manipulative experiments for the 2016 season to better understand the relationship between tick abundance and environmental factors. 
Keywords
Amblyomma americanum,
kriging,
abundance,
landscape
Publication Date
Spring April 15, 2016
Citation Information
Thomas Van Horn, Kathleen M Westby and Kim A. Medley. "Mapping Tick Abundance in Ozark Forests"
Washington University in St. Louis Undergraduate Research Symposium
(2016)
Available at: http://works.bepress.com/thomas_vanhorn/3/