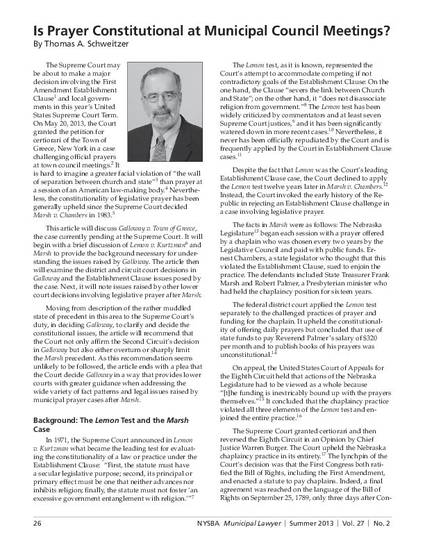 Article
Is Prayer Constitutional at Municipal Council Meetings?
27 Mun. Law. 26
Publication Date
1-1-2013
Abstract
The author discusses Galloway v. Town of Greece, a case which challenges official prayers at town council meetings. To provide the necessary background information for understanding the issues in Galloway, the author begins with a brief discussion of two other cases, Lemon v. Kurtzman and Marsh v. Chambers. The author then examines the district and circuit court decisions in Galloway and the Establishment Clause issues posed by the case. Next, the author notes issues raised by other lower court decisions involving legislative prayer after Marsh.

Towards the end of the article, to clarify and decide the constitutional issues, the author recommends that the Court not only affirm the Second Circuit's decision in Galloway but also either overturn or sharply limit the Marsh precedent. He concludes with a plea that the Court will decide Galloway in a way that provides lower courts with greater guidance when addressing the wide variety of fact patterns and legal issues raised by municipal prayer cases after Marsh.
Citation Information
27 Mun. Law. 26 (2013)