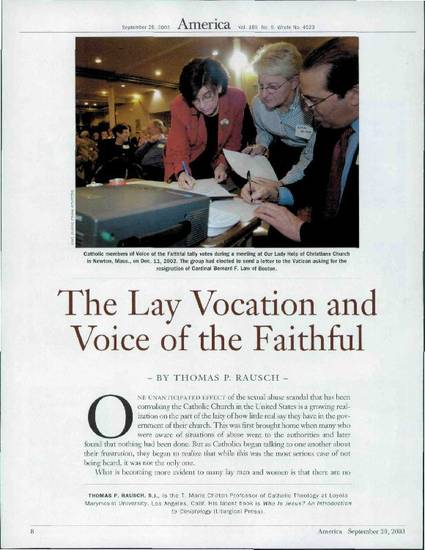 Article
The Lay Vocation and Voice of the Faithful
America
Publication Date
9-29-2003
Abstract
This article focuses on the on growing realization by the Catholic laity in the U.S. of the need for them to have greater say and involvement in church government following the sexual abuse scandal that has been convulsing the Catholic Church
Publisher Statement
Permission has been granted by America Press, Inc. to supply this article for educational and research purposes. More info can be found about American Press at http://www.americamagazine.org/. Copyright © 2003 America Press Inc.
Citation Information
Rausch, Thomas P. "The Lay Vocation and Voice of the Faithful," America 189/9 (September 29, 2003): 8-11.