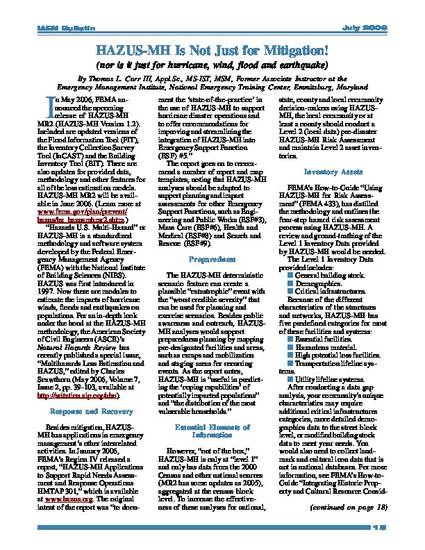 Article
HAZUS-MH is not just for Mitigation!
IAEM (International Association of Emergency Managers) Bulletin (2006)
Abstract
In May 2006, FEMA announced the upcoming release of HAZUS-MH MR2 (HAZUS-MH Version 1.2). Included are updated versions of the Flood Information Tool (FIT), the Inventory Collection Survey Tool (InCAST) and the Building Inventory Tool (BIT). There are also updates for provided data, methodology and other features for all of the loss estimation models. HAZUS-MH MR2 will be available in June 2006. (Learn more at www.fema.gov/plan/prevent/hazus/hz_hazusmhmr2.shtm.)
"Hazards U.S. Multi-Hazard" or HAZUS-MH is a standardized methodology and software system developed by the Federal Emergency Management Agency (FEMA) with the National Institute of Building Sciences (NIBS). HAZUS was first introduced in 1997. Now there are modules to estimate the impacts of hurricane winds, floods and earthquakes on populations. For an in-depth look under the hood at the HAZUS-MH methodology, the American Society of Civil Engineers (ASCE)'s Natural Hazards Review has recently published a special issue, "Multihazards Loss Estimation and HAZUS," edited by Charles Scawthorn (May 2006, Volume 7, Issue 2, pp. 39-103, available at http://scitation.aip.org/nho).
Publication Date
July, 2006
Citation Information
Thomas Lyons Carr III, Appl.Sc., CEM. "HAZUS-MH is not just for Mitigation!"
IAEM (International Association of Emergency Managers) Bulletin
Vol. 23 Iss. 7 (2006)
Available at: http://works.bepress.com/thomas_lyons_carr_iii/4/