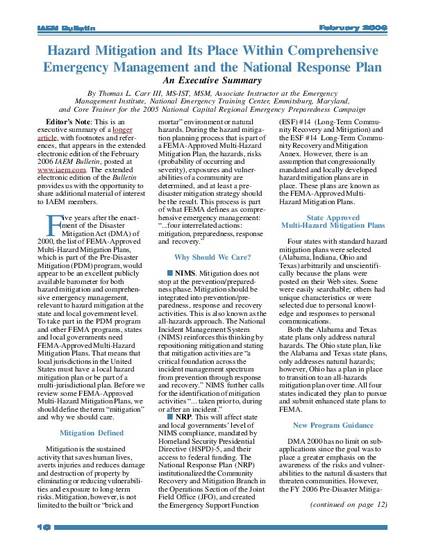 Article
Hazard Mitigation and Its Place Within Comprehensive Emergency Management and the National Response Plan, An Executive Summary
IAEM (International Association of Emergency Managers) Bulletin (2006)
Abstract
Editor's Note: This is an executive summary of a longer article, with footnotes and references, that appears in the extended electronic edition of the February 2006 IAEM Bulletin, posted at www.iaem.com. The extended electronic edition of the Bulletin provides us with the opportunity to share additional material of interest to IAEM members.
Five years after the enactment of the Disaster Mitigation Act (DMA) of 2000, the list of FEMA-Approved Multi-Hazard Mitigation Plans, which is part of the Pre-Disaster Mitigation (PDM) program, would appear to be an excellent publicly available barometer for both hazard mitigation and comprehensive emergency management, relevant to hazard mitigation at the state and local government level. To take part in the PDM program and other FEMA programs, states and local governments need FEMA-Approved Multi-Hazard Mitigation Plans. That means that local jurisdictions in the United States must have a local hazard mitigation plan or be part of a multi-jurisdictional plan.
Keywords
Hazard Mitigation,
Comprehensive Emergency Management,
National Response Plan
Publication Date
February, 2006
Citation Information
Thomas Lyons Carr III, Appl.Sc., CEM. "Hazard Mitigation and Its Place Within Comprehensive Emergency Management and the National Response Plan, An Executive Summary"
IAEM (International Association of Emergency Managers) Bulletin
Vol. 23 Iss. 2 (2006)
Available at: http://works.bepress.com/thomas_lyons_carr_iii/2/