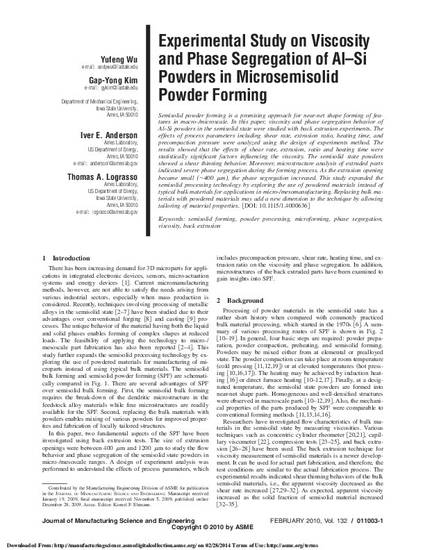 Article
Experimental Study on Viscosity and Phase Segregation of Al–Si Powders in Microsemisolid Powder Forming
Journal of Manufacturing Science and Engineering
Publication Date
12-28-2009
Abstract
Semisolid powder forming is a promising approach for near-net shape forming of features in macro-/microscale. In this paper, viscosity and phase segregation behavior of Al–Si powders in the semisolid state were studied with back extrusion experiments. The effects of process parameters including shear rate, extrusion ratio, heating time, and precompaction pressure were analyzed using the design of experiments method. The results showed that the effects of shear rate, extrusion, ratio and heating time were statistically significant factors influencing the viscosity. The semisolid state powders showed a shear thinning behavior. Moreover, microstructure analysis of extruded parts indicated severe phase segregation during the forming process. As the extrusion opening became small (∼400 μm), the phase segregation increased. This study expanded the semisolid processing technology by exploring the use of powdered materials instead of typical bulk materials for applications in micro-/mesomanufacturing. Replacing bulk materials with powdered materials may add a new dimension to the technique by allowing tailoring of material properties.
File Format
application/pdf
Citation Information
Yufeng Wu, Iver E. Anderson, Thomas A. Lograsso and Gap-Yong Kim. "Experimental Study on Viscosity and Phase Segregation of Al–Si Powders in Microsemisolid Powder Forming"
Journal of Manufacturing Science and Engineering
Vol. 132 Iss. 1 (2009) p. 011003
Available at: http://works.bepress.com/thomas_lograsso/225/