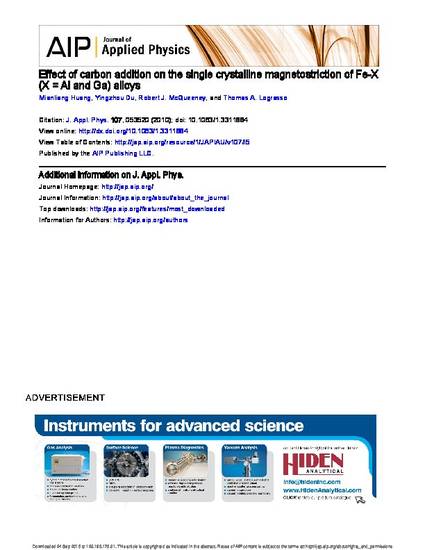 Article
Effect of carbon addition on the single crystalline magnetostriction of Fe-X (X = Al and Ga) alloys
Journal of Applied Physics
Publication Date
3-8-2010
Abstract
The effect of carbon addition on the magnetostriction of Fe–Ga and Fe–Al alloys was investigated and is summarized in this study. It was found that the addition of carbon generally increased the magnetostriction over binary alloys of Fe–Ga and Fe–Al systems. The formation of carbide in the Fe–Ga–C alloys with a composition near D03 phase region decreased the magnetostriction drastically. Fe–Al–C and Fe–Ga–C alloys responded differently to thermal treatments; the magnetostriction in the quenched Fe–Al–C alloys is equal to or slightly lower than that of the slow cooled as is observed in binary Fe–Al alloy; in contrast, the magnetostriction is generally higher in quenched Fe–Ga–C alloys than slow cooled condition, consistent with the behavior of binary alloys of Fe–Ga. A significant increase in magnetostriction between 25% and 165% depending on the phase region in Fe–Ga–C alloys by quenching was observed in the A2+D03 two-phase region and D03 single phase region.
Rights
Copyright 2010 American Institute of Physics. This article may be downloaded for personal use only. Any other use requires prior permission of the author and the American Institute of Physics.
Copyright Owner
American Institute of Physics
File Format
application/pdf
Citation Information
Mianliang Huang, Yingzhou Du, Robert J. McQueeney and Thomas A. Lograsso. "Effect of carbon addition on the single crystalline magnetostriction of Fe-X (X = Al and Ga) alloys"
Journal of Applied Physics
Vol. 107 Iss. 5 (2010) p. 053520
Available at: http://works.bepress.com/thomas_lograsso/110/