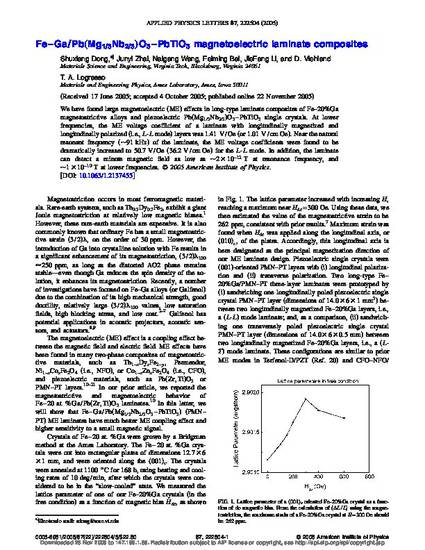 Article
Fe–Ga/Pb(Mg1/3Nb2/3)O3–PbTiO3 magnetoelectric laminate composites
Applied Physics Letters
Publication Date
11-22-2005
Abstract
We have found large magnetoelectric (ME) effects in long-type laminate composites of Fe–20%Ga magnetostrictive alloys and piezoelectric Pb(Mg1/3Nb2/3)O3–PbTiO3 single crystals. At lower frequencies, the ME voltage coefficient of a laminate with longitudinally magnetized and longitudinally polarized (i.e., L-L mode) layers was 1.41 V/Oe (or1.01 V/cm Oe). Near the natural resonant frequency ( ∼ 91 kHz) of the laminate, the ME voltage coefficients were found to be dramatically increased to 50.7 V/Oe (36.2 V/cm Oe)for the L-L mode. In addition, the laminate can detect a minute magnetic field as low as ∼ 2×10−12 T at resonance frequency, and ∼ 1×10−10 T at lower frequencies.
Rights
Copyright 2005 American Institute of Physics. This article may be downloaded for personal use only. Any other use requires prior permission of the author and the American Institute of Physics.
Copyright Owner
American Institute of Physics
File Format
application/pdf
Citation Information
Shuxiang Dong, Junyi Zhai, Naigang Wang, Feiming Bai, et al.. "Fe–Ga/Pb(Mg1/3Nb2/3)O3–PbTiO3 magnetoelectric laminate composites"
Applied Physics Letters
Vol. 87 Iss. 22 (2005) p. 222504
Available at: http://works.bepress.com/thomas_lograsso/103/