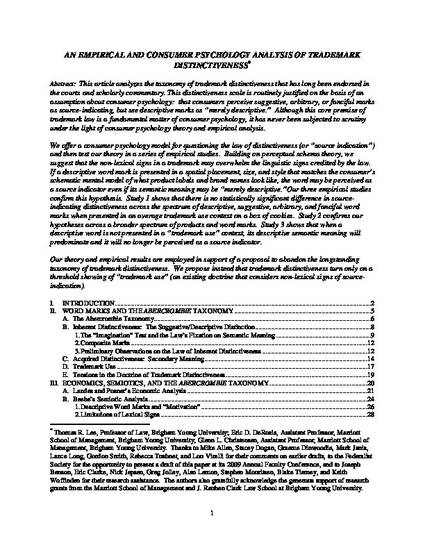 Unpublished Paper
An Empirical and Consumer Psychology Analysis of Trademark Distinctiveness
ExpressO (2009)
Abstract
This article analyzes the taxonomy of trademark distinctiveness that has long been endorsed in the courts and scholarly commentary. This distinctiveness scale is routinely justified on the basis of an assumption about consumer psychology: that consumers perceive suggestive, arbitrary, or fanciful marks as source-indicating, but see descriptive marks as "merely descriptive." Although this core premise of trademark law is a fundamental matter of consumer psychology, it has never been subjected to scrutiny under the light of consumer psychology theory and empirical analysis. We offer a consumer psychology model for questioning the law of distinctiveness (or "source indication") and then test our theory in a series of empirical studies. Building on perceptual schema theory, we suggest that the non-lexical signs in a trademark may overwhelm the linguistic signs credited by the law. If a descriptive word mark is presented in a spatial placement, size, and style that matches the consumer's schematic mental model of what product labels and brand names look like, the word may be perceived as a source indicator even if its semantic meaning may be "merely descriptive."Our three empirical studies confirm this hypothesis. Study 1 shows that there is no statistically significant difference in source-indicating distinctiveness across the spectrum of descriptive, suggestive, arbitrary, and fanciful word marks when presented in an average trademark use context on a box of cookies. Study 2 confirms our hypotheses across a broader spectrum of products and word marks. Study 3 shows that when a descriptive word is not presented in a "trademark use" context, its descriptive semantic meaning will predominate and it will no longer be perceived as a source indicator. Our theory and empirical results are employed in support of a proposal to abandon the longstanding taxonomy of trademark distinctiveness. We propose instead that trademark distinctiveness turn only on a threshold showing of "trademark use" (an existing doctrine that considers non-lexical signs of source-indication).
Keywords
trademark,
lanham act,
trademark distinctiveness
Publication Date
March 13, 2009
Citation Information
Thomas R Lee. "An Empirical and Consumer Psychology Analysis of Trademark Distinctiveness"
ExpressO
(2009)
Available at: http://works.bepress.com/thomas_lee/4/