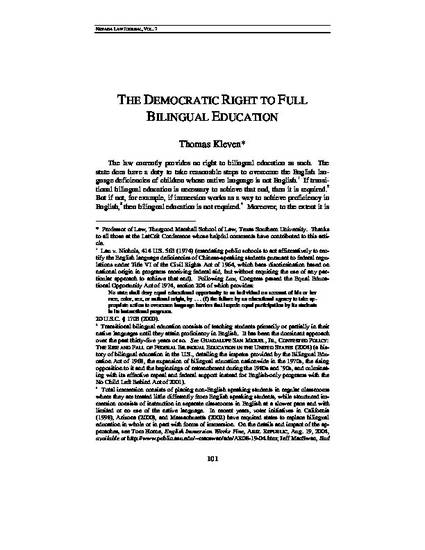 Article
The Democratic Right to Full Bilingual Education
Nevada Law Journal (2007)
Abstract
The law currently provides no right to bilingual education as such. The state does have a duty to take reasonable steps to overcome the English language deficiencies of children whose native language is not English. If transitional bilingual education is necessary to achieve that end, then it is required. But if not, if, for example, total immersion works as a way to achieve proficiency in English, then bilingual education is not required. Moreover, to the extent it is required, bilingual education may be discontinued once the transition to English is achieved. There is no obligation to enable a non-native English speaking child to become proficient in his or her native language. This article contends that democratic principles mandate, for parents who want it and until children are old enough to choose otherwise, that public schools seek to enable non-native English speaking children to develop proficiency in their native languages – what I call full bilingual education. Further, I contend that as a legal matter the Equal Protection Clause, properly interpreted in accordance with the democratic principles implicit in it, mandates full bilingual education.
Citation Information
Thomas Kleven. "The Democratic Right to Full Bilingual Education"
Nevada Law Journal
Vol. 7 (2007)
Available at: http://works.bepress.com/thomas_kleven/3/