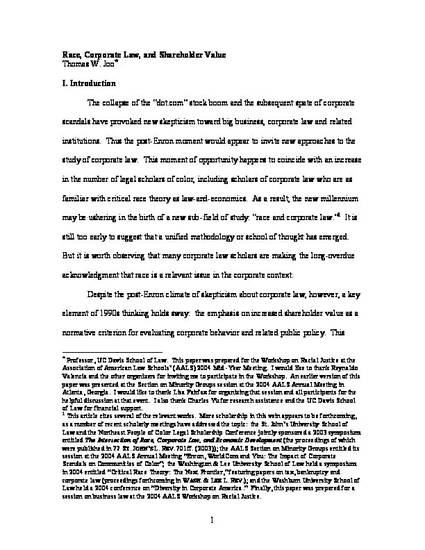 Article
Race, Corporate Law, and Shareholder Value
Journal of Legal Education (2004)
Abstract
Racial justice is becoming a taboo subject, which often has to be explained and justified in nominally "race-neutral" terms. The rhetorical strategy of linking diversity to the bottom line is potentially powerful in the current political and cultural climate. But the strategy also has limitations and costs. It is not clear that diversity and improved corporate performance always go hand in hand. Furthermore, as a matter of corporate law doctrine, even strong evidence of a correlation between the two would not necessarily constitute a basis to compel corporations to take any action to further racial justice. Finally, there is a danger that adopting the rhetoric of shareholder value will allow arguments for the intrinsic value of racial justice to atrophy.
Keywords
corporations,
race,
corporate governance
Citation Information
Thomas W Joo. "Race, Corporate Law, and Shareholder Value"
Journal of Legal Education
Vol. 54 (2004)
Available at: http://works.bepress.com/thomas_joo/5/