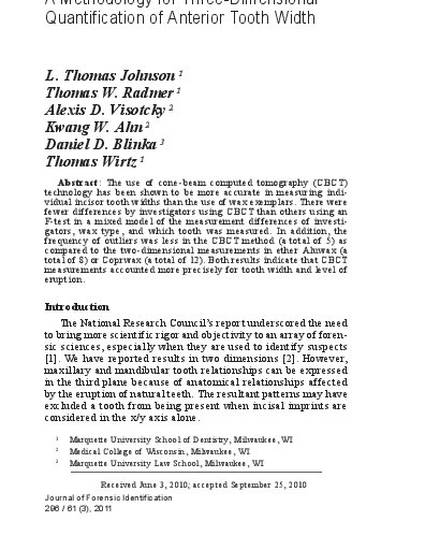 Article
A Methodology for Three-Dimensional Quantification of Anterior Tooth Width
Journal of Forensic Identification
Publication Date
5-1-2011
Publisher
International Association for Identification
Abstract
The use of cone-beam computed tomography (CBCT) technology has been shown to be more accurate in measuring individual incisor tooth widths than the use of wax exemplars. There were fewer differences by investigators using CBCT than others using an F-test in a mixed model of the measurement differences of investigators, wax type, and which tooth was measured. In addition, the frequency of outliers was less in the CBCT method (a total of 5) as compared to the two-dimensional measurements in ether Aluwax (a total of 8) or Coprwax (a total of 12). Both results indicate that CBCT measurements accounted more precisely for tooth width and level of eruption.
Citation Information
L. Thomas Johnson, Thomas W. Radmer, Alexis D. Visotcky, Kwang Woo Ahn, et al.. "A Methodology for Three-Dimensional Quantification of Anterior Tooth Width"
Journal of Forensic Identification
(2011) ISSN: 0895-173X
Available at: http://works.bepress.com/thomas_johnson/4/