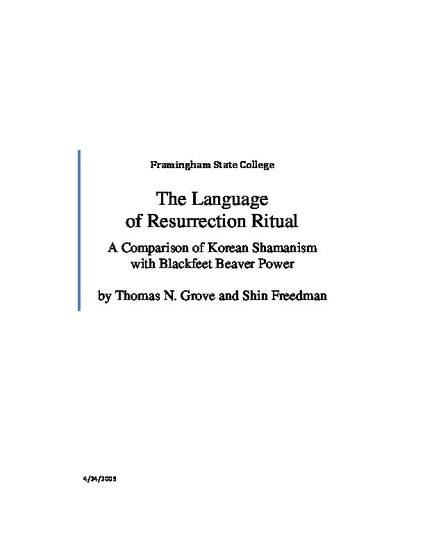 Article
The Language of Resurrection Ritual: A Comparison of Korean Shamanisn with Blackfeet Beaver Power
Proceedings of Spring Conference of the Society of Korean Oral Literature
Document Type
Conference Proceeding
Publication Date
1-1-2009
Keywords
Native American,
Blackfeet,
Korean oral literature,
shamanism,
beaver power
Subject Categories
Korean Literature, Oral
Abstract
The authors present a comparison of the effects and contents of two traditional pieces—the Korean story, "The Abandoned Princess," and a story from the Blackfeet Native American Bullchild's The Sun Came Down—about how they console the dead and the living through songs and chanting from these two different cultures. The paper demonstrates the resemblance between mystic syllables narrated in a song by a Korean shaman and in a tale by a Native American elder, and how repeating words and following actions revive the souls of the deceased and the beleaguered. The magical powers of transforming the dead and communicating with the living through narratives will be examined as will the effects of oral history on healing and consolation originating from the two different worlds.
Citation Information
Thomas N Grove and Shin Freedman. "The Language of Resurrection Ritual: A Comparison of Korean Shamanisn with Blackfeet Beaver Power"
Proceedings of Spring Conference of the Society of Korean Oral Literature
(2009) p. 2 - 20
Available at: http://works.bepress.com/thomas_grove/3/